Manna Management, LLC was founded in 2004 by Fred Pieplow to assist
company owners and managers in making great decisions.
That is still the objective today.
Areas of expertise:
Financial
Planning
Operations
Project Management
Goal Setting
Ways to work together:
Leadership training
Speaking (Problem Solving, Decision Making, P rotecting Corporate Assets, and
Business Planning)
Project Management
Temporary Executive
Before beginning any assignment, Manna works with the client to develop a
Statement of Work (SOW) to define exactly what problems is to be solved, the
methods to be used, and the estimated time and resources needed. By
beginning this way, we increase the likelihood of a successful assignment.
Often, additional SOWs are developed and worked on simultaneously.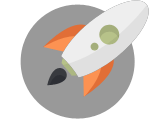 We're Here To Help Your Business Blast Off!
Through Creative Ideas, Innovation & Sheer Determination