Welcome to Manna Management
Hi, I'm Fred Pieplow
Manna helps companies GROW by helping leaders make great decisions for improvement. We assist in goal setting, information gathering for great decision making, cash flow improvements, scenario planning, and much more.

Purpose:
Coaching Executives and teams to define the issues holding them back and use the Wisdom of God's Word to release the energy pent up by indecision.
Four reasons to work with Manna:
Biblically based approach to problem solving

50+ item check list to get cash moving

Years of experience in start-ups and high growth companies

Significant M&A and planning experience
Be sure to check out Manna's blog for up to date information important to small business
Better Questions . . . Better Results
See what people are saying about Fred
I recently had the pleasure of working with Fred at a mutual client. It proved to be a very challenging and pleasurable experience. Fred is a true financial professional with a keen understanding of shop floor operations. Fred displayed a knack for gaining the respect of both salaried and hourly personnel and demonstrated the ability to lead them to solve their own problems. He is open-minded, insightful and has excellent overall knowledge of business operations and finance. I look forward to the opportunity to work with Fred in the future.
Fred is one of the finest individuals I know, with an outstanding work ethic, impeccable attention to detail, astute knowledge of overall business with an emphasis on finance, and a passion to inspire and motivate people and companies to be the very best at what they do!
Fred is available, reliable and professional. He patiently encourages me to keep the the right priorities at the top of the list and is gracious when progress is slow. I am grateful for his kind and relentless pressing to complete the next most important project. He knows me personally through our meetings and understands how to guide me because he is aware of my strengths and weaknesses. It is clear his outcome based guidance is FOR my organization and me personally.
Your Success is Our Success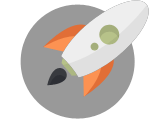 We're Here To Help Your Business Blast Off!
Through Creative Ideas, Innovation & Sheer Determination