Welcome to Manna Management
Hi, I'm Fred Pieplow
Manna helps companies GROW through prayer, applying Biblical wisdom, and getting to know you and your business. Together we will transform the way you look at issues and make decisions.   Together we will eliminate cash leaks and identify hidden opportunities for improvement.
Manna provides the following basic services:
1) Business and Executive Coaching – Helping you move from Complexity to Clarity to Action.
2) Business Planning and consulting,
3) Temporary CFO services, and
4) Conflict Resolution services.
Manna is dedicated to the success of our clients. We assist in goal setting, information gathering for great decision making, scenario planning, and much more. We work closely with CPAs, attorneys, and other advisers to reach the best result available for you, the client.
Better Questions . . . . Better Results!
See what people are saying about Fred
I recently had the pleasure of working with Fred at a mutual client. It proved to be a very challenging and pleasurable experience. Fred is a true financial professional with a keen understanding of shop floor operations. Fred displayed a knack for gaining the respect of both salaried and hourly personnel and demonstrated the ability to lead them to solve their own problems. He is open-minded, insightful and has excellent overall knowledge of business operations and finance. I look forward to the opportunity to work with Fred in the future.less
Fred is one of the finest individuals I know, with an outstanding work ethic, impeccable attention to detail, astute knowledge of overall business with an emphasis on finance, and a passion to inspire and motivate people and companies to be the very best at what they do!
Your Success is Our Success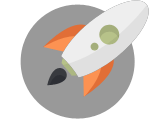 We're Here To Help Your Business Blast Off!
Through Creative Ideas, Innovation & Sheer Determination